Part of the art of designing beautiful landscape designs is the ability to achieve an ever changing sequence of color from season to season beginning in spring and continuing into late fall and even winter.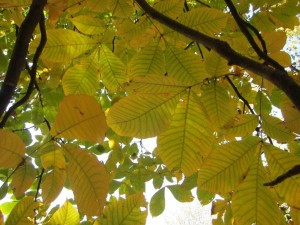 Most of us think of spring and summer for the ultimate enjoyment of garden color, but your landscape can come alive in the fall with beautiful foliage colors, fiery berries and colorful bark.  Have you ever wondered what causes the leaves of your shrubs and trees to change color in the fall?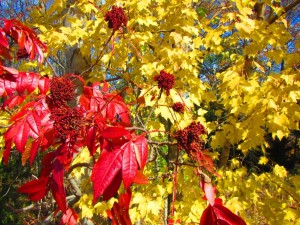 Leaves are green in the summer because they are full of the green pigment called chlorophyll.  Chlorophyll is necessary for photosynthesis, which is the process by which plants obtain energy from light. Along with the chlorophyll, leaves may contain other pigments called carotenoids.  In the summer, their colors are masked by chlorophyll.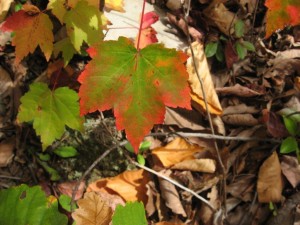 As summer fades into autumn, plants respond to a decreasing amount of sunlight by producing less chlorophyll.  The chlorophyll breaks down and the green color fades and other colors emerge. Carotenoids, already in the leaves show through in yellows, oranges and browns.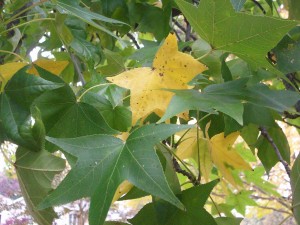 Red and purple colors are produced by anthocyanins.  The best fall colors come from a warm, wet spring, a summer that's not too hot or dry and a fall with plenty of warm sunny days and cool nights.