So you have decided that you would like a patio in your back yard. You think a lot about it, but realize you need a professional landscape contractor to help. There are choices to be made: location, size and materials. For homeowners in Ashburn, McLean and throughout Northern Virginia, stone selection is key.
Patio Design & Installation Tips from Loudoun County VA's Expert Landscape Contractors
You've decided on natural stone so now you have another choice to make, dry-laid versus wet-laid.  This is an important decision.
Dry-laid stone is installed on tightly compacted gravel and a layer of sand. Done properly, this will provide you with years of enjoyment.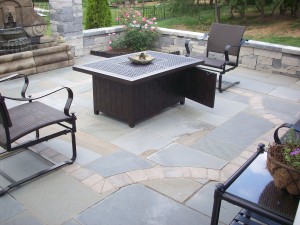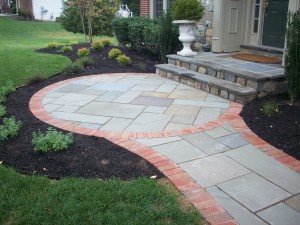 Polymerized sand is installed in the joints to deter weed growth and give a more finished look.  Dry-laid gives the patio flexibility which is important in our climate where we have a lot of freeze and thaw.  This flexibility provides the ability to correct gradual shifts if there are any and correct them inexpensively.  With proper construction, which Main Street will provide for you, the risk of settling is minimized.  Dry-laid patios have a more rustic look than wet-laid (masonry) patios.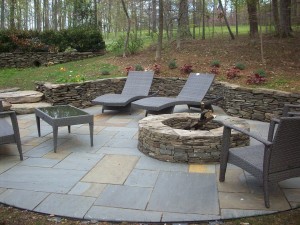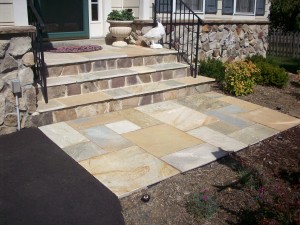 Wet-laid stone patios provide a more formal as well as a cleaner and more pristine look.  They are installed on concrete and then mortared together for a more permanent finish.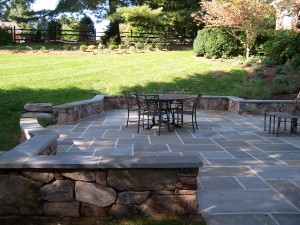 This is a much more expensive option.  This type of patio, again done correctly, will last many years, however down the road (around 7-10 years), the joints will have to be re-pointed.  Shifting of the patio can cause the joints to crack.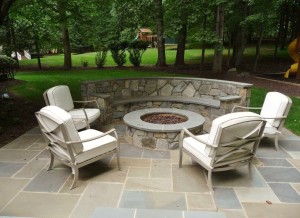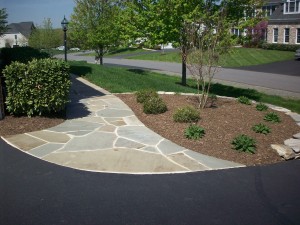 How do you choose? I tell my clients that if they really prefer the masonry look, then they should consider it.  But, if they like the look of the dry-laid, then go for it.  It's definitely less expensive.  Whichever method is chosen, it is crucial to lay a solid foundation which our crews will do for you.
A third less expensive option is to lay the stone on a 2 inch layer of stone dust. This type of patio or walkway provides a more casual look.  With this type of installation you have the option to allow ground covers or moss to grow between the stone.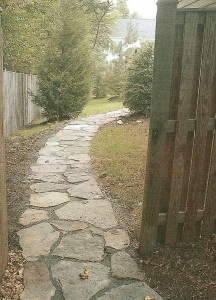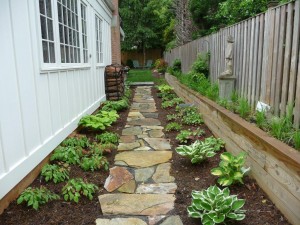 Regardless of your choice, it is important to hire a professional.  Laying a patio or walkway is a complex process.