Our Story
In 1983, Bill Mashburn set out to form an honest and dedicated company founded on the principles of doing what we say we're going to do and going the extra mile to provide a great customer experience. Over thirty years later, the company has grown to over 30 full time employees. Repeat business and referrals represent over two-thirds of the projects that Main Street Landscape completes each year.
Working with the finest quality materials available, Main Street's highly experienced management, talented designers and dedicated foremen have made Bill's dream a reality. Founder and CEO, Bill Mashburn, still serves as the company's finance manager today.
---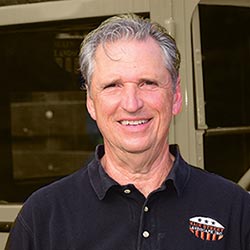 How fortunate I am to work at something I love — and with others who love it too. Meeting new challenges, developing new ideas and improving our approach to landscape design and construction are still daily events since 1983.
— Bill Mashburn, President & Founder, Main Street Landscape, Inc.
---
Our Principles
The work we do for you is greatly influenced by certain operating principles of which we want you to be aware.
Our Work
We commit to excellence and professionalism.
We always do what we say we will do.
We foster creativity, continual improvement and innovation.
We believe in teamwork and enjoy working together.
We continually improve our systems and procedures.
We rectify mistakes immediately, making client satisfaction the priority.
We provide friendly, personalized and consistent service.
The quality of our work sets us apart.
Our People
We strive for stability, vitality and balance in our personal and professional lives.
Everyone is treated fairly and with respect.
We are sincere and honest in our dealings.
We are humble and grateful towards our clients.
Individually and collectively we will be the best at what we do.
We look for ways to assist our co-workers in being the best they can be.
Conflict resolution is addressed with honesty, urgency, dignity and respect.
We build lifetime relationships with our clients.
At Main Street Landscape, we love our work.
Our Environment
Respecting the environment is a priority here at Main Street Landscape. We feel our investment in this area expresses our concern and our appreciation of the role we can play, especially in recycling. We recycle virtually all construction debris and by-products possible. We believe it is worth the extra time and money to help leave a better city, a better country and a better planet for our children and grandchildren… and for yours as well.