Joan had the recent privilege of working with a train enthusiast in Haymarket, VA.  This client has always had an interest in trains and has displayed them during the Christmas season.  Recently retired, he decided that expanding on his train collection would make a great hobby.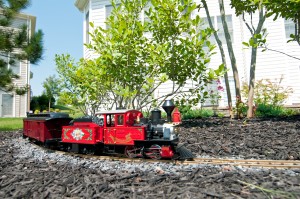 With the help of Joan and crew, the homeowner was able to expand his collection into the back yard landscape.  The goal was to create a nice outdoor landscape with a water feature and planting that would showcase the train in a subtle yet historically accurate way.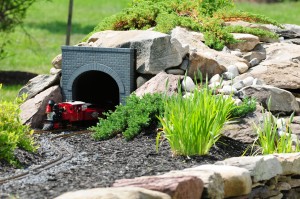 The portals on each side of the tunnel mimic real stone train tunnel entrances.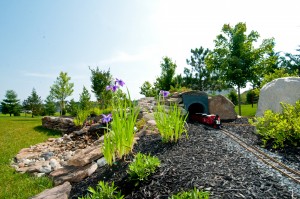 The main feature of this garden is the pondless waterfall.  Water re-circulates through the boulder feature, tumbling over rocks, providing the enjoyable sight and sounds of running water without the maintenance of a pond.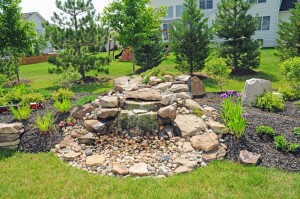 The cars on this train are replicas of actual cars from the late/post civil war period.  The locomotive currently seen in this garden is a temporary fill in.  The homeowner is trying to purchase a particular locomotive, 'The General'.  'The General' is a steam locomotive that was involved in the Great Locomotive Chase of the Civil War.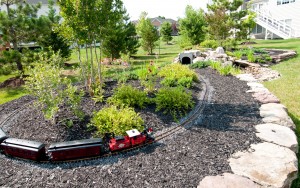 What a great project and quite the conversation piece.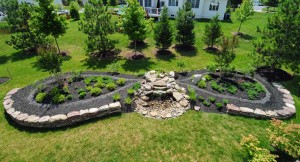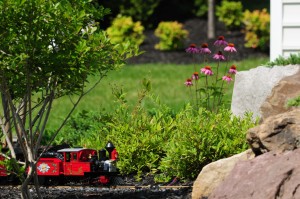 Here are Joan and her clients admiring the finished product.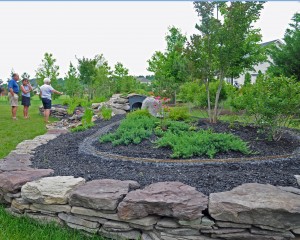 Any other train enthusiasts out there?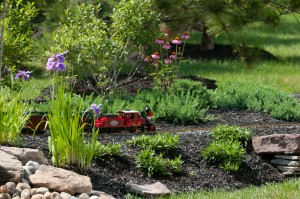 A special thank you to Liam McGranaghan for taking the great pictures.