Color in the landscape is worthwhile considering while planning the winter garden.  Red is what comes to my mind.  Most berries are showiest in the fall when they first ripen, but others continue to brighten the landscape through the winter months.  Hollies are typically the first plant we think of for red fruits.
But, there are other options……this Heavenly Bamboo is full of berries right now.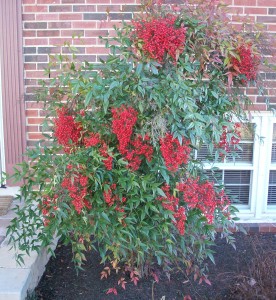 Besides brightening up the landscape, fruit-filled plants will lure beautiful birds to your yard through out fall and winter.  This Cedar waxwing is enjoying the berries of a Winterberry holly.
Winterberry hollies are native to our region and an excellent food source for birds through the winter months.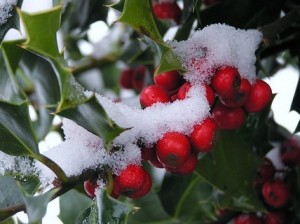 And, snow and berries…… such a pretty sight together.
These are just a small sampling of the vast array of berry producing plants that can be enjoyed in the fall and winter landscapes.