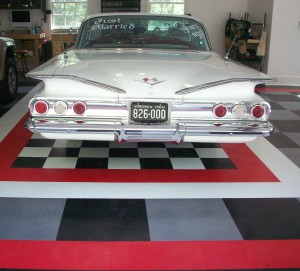 A pristine 1960 Chevrolet Impalla with only 25,000 miles on it….that's what I saw when invited to preview the inside of my clients' newly installed carriage house in Leesburg.
The carriage house was built while we were landscaping the rest of the property.  We took part in the construction process as well.  We did all of the stone work on the new building and also installed the water ledge and pillar caps.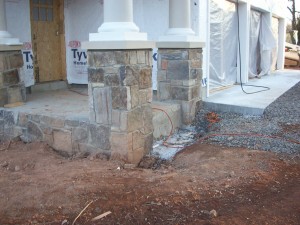 Once the carriage house was complete, we installed flagstone steps and a patio off of the front entrance.  We landscaped the surroundings and finished off the driveway all the while being attentive to drainage issues.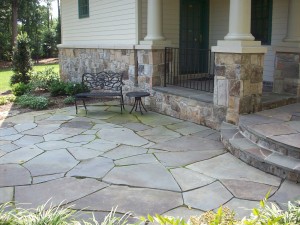 I visited these wonderful clients recently.  They showed me their newest addition to the carriage house, the 1960 Impalla.  Their daughters had gifted them with this car, a replica of the vehicle that their wedding proposal took place in 50 years earlier.  And take note of the floor – interlocking modular floor tiles – quite the compliment to a special car.