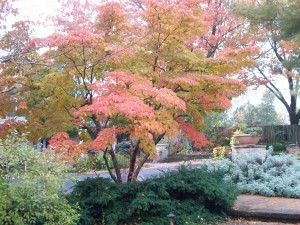 Our blog officially changes today. I'm excited to take on the task of blog writing for Main Street Landscape.  As I've been contemplating our blog over the last few months, I have found myself looking at the world in a different way.  I've been more observant as I go through the work day.  I'm taking notes – writing down ideas for future blog posts.  I'm taking more pictures, which will make Craig, our GM, happy.  He has been after us (the designers at Main Street) for years to get more pictures of our landscape and hardscape projects. And, Laura (our office manager and very talented photographer) recently reminded me that the key to taking a good photograph is to take many many pictures in the process.  I used to take one or two pictures here, and another there, and then wonder why my pictures were so awful.
I'm beginning this new adventure of blog writing during my favorite time of the year.  I love the cooler temperatures and the beautiful colors of the fall season.  It's a perfect time of the year to get outside and meet new clients, plan new projects and manage current projects.  It's also a perfect time to start blogging.
Although I will be writing this blog, this is Main Street's project.  I'm hoping to incorporate pictures and tidbits of information and adventures from everyone at Main Street Landscape.  I hope you will join us in this new adventure.