Did you know that every year, millions of Monarch butterflies travel thousands of miles from North America to the mountains of Mexico to stay for the winter?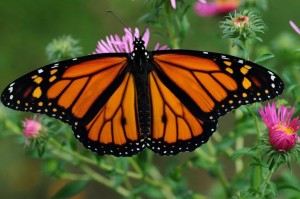 Recently, our office manager Laura and her husband Liam, along with five others, traveled to Mexico City and from there up into the mountains of Mexico to visit the Monarch sanctuaries.  At this particular sanctuary, El Rosario, the view of monarchs was so spectacular that some in the group were moved to tears.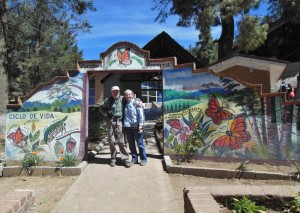 The monarchs form cluster upon cluster on the branches of Oyamel fir trees by night.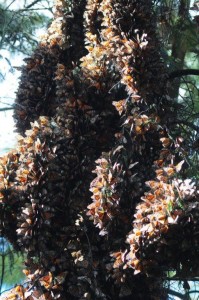 As the temperatures rise in the morning, the monarchs take flight for the day traveling the mountains in search of nectar plants and water.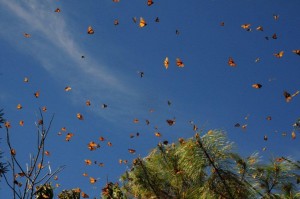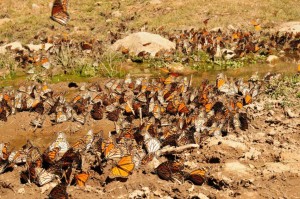 Here is a picture of Laura releasing a tagged butterfly.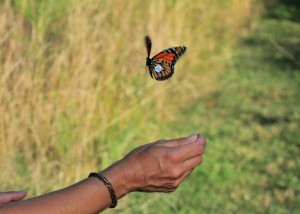 Monarchs begin their long migration south in the late summer.  They travel all the way to Mexico to stay for the winter and then come early spring, they begin to head back north. They migrate so that they can have better access to the milkweed plant, which is necessary for their food and their young.  Asclepias Tuberosa, common name Butterfly Weed, is a beautiful member of the milkweed family.  We have some growing in our display at Main Street.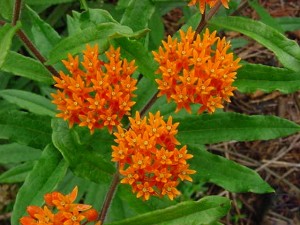 Come next summer, monarch butterflies will be laying their eggs on the underside of the leaves of the Asclepias plants in our display.  And, so the cycle begins again.